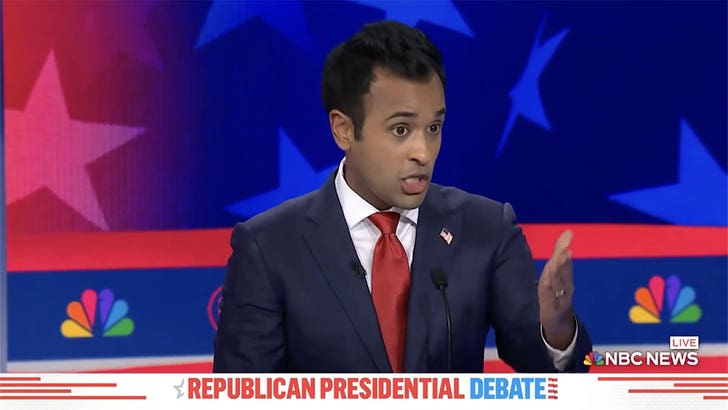 NBC News
More fireworks between Vivek and Nikki … this after he attacked her family over their use of TikTok, which spurred her to tell him to keep her daughters' names out of his mouth.
Will Smith's words live on …
Vivek Ramaswamy came out swinging at the third Republican debate this week — but it wasn't so much at his political rivals … instead, he took aim at the moderators.
The polarizing GOP candidate went on the offensive right out the gate Wednesday in Miami … this after one of the NBC moderators, Lester Holt, asked why he thought he should be the Republican nominee instead of Donald Trump … who's still leading the pack by a lot.
Instead of answering the question directly, VR went on a rant bashing the party at large — this after some tough losses in national elections Tuesday — and called the GOP "losers."
He blamed the GOP Chairwoman Ronna McDaniel for that, but then turned his focus on Lester, Hugh Hewitt and Kristen Welker — all of whom were moderating … saying they didn't deserve to be moderating this … and that Tucker Carlson, Joe Rogan and Elon Musk did.
FWIW … Vivek's done a lot of sit-downs with Tucker lately — and he seems to be a fan of JR and EM, too. Lester ended up cutting him short once it became clear he was just bashing.
Vivek did eventually go after the other candidates, though … including a shot at Nikki Haley — whom he characterized as a Dick Cheney-esque neo-con in "3-inch heels." Low blow, indeed.
Originally Published — 5:38 PM PT