We've come to the end of our tour of the islands of every MLB team's offseason outlook. We wrap up in the NL West, still the favorite landing place for Shohei Ohtani, as two of the rivals here are going to duke it out to bring him either slightly up the coast or six hours up it. One more time…
Ohtani tears UCL and the Angels are done
Arizona Diamondbacks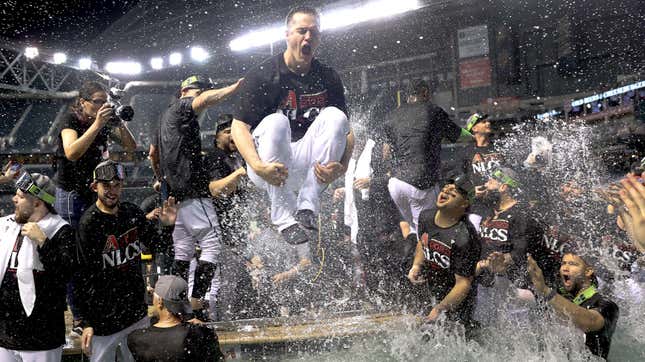 Owner cheapness level: Hasn't been tested in a bit. Still suspected to be more to the Scrooge side of the dial than Brewster's Millions. But hey, signing Madison Baumgarner to that contract might make anyone a little hesitant.
Outlook: What Diamondbacks fans must be pondering this winter is how will the front office view what just went on. Do they see an 84-win team that got outscored over the whole of the 162 games? Or the NL pennant winners? The former needs a fair amount of work, and that's who Arizona is. The latter is just what they're capable of when everything clicks and they catch something of a sweetheart draw in getting to open the playoffs against two teams that didn't really have any starting pitchers. But if the D-Backs think they're just the latter, they may stand more pat than they need to to take the next step. Which is rolling with the Dodgers over the regular season instead of catching them cold over three games. And that very well could be a Dodgers reformed with a certain Japanese baseball mutant. Maybe two of 'em.
Digging a little deeper into the Diamondbacks going from 84 wins to something more, they'll have to weigh how much they think their young players will grow and develop with another year's experience. For instance, Alek Thomas is a plus centerfielder with the glove, but didn't hit a lick. Do they think he will? His minor-league numbers suggest he will, but they'll have to wait. Or are they happy to carry a glove-only player in center? That's fine, but they'll have to find hitting elsewhere.
Same question goes for Jordan Lawler at short. He'll be the part in the field, and he hit in 89 games at AA. But that's going to take time.
Which leaves holes at DH, third, and whatever corner Corbin Carroll doesn't play in the outfield. They could plug those with internal, younger options. But Matt Chapman or J.D. Martinez or Jorge Soler would still make a lot of sense.
The questions in the rotation are the same. They can't know how Merrill Kelly and Zac Gallen will react to pitching deep into the playoffs for the first time. There really isn't an ace on the market for them, at least not one that can pitch in 2024 and whatever Blake Snell's two Cy Youngs say. Are Brandon Pfaadt, Ryne Nelson, and Tommy Nelson ready to back that up? Pfaadt's playoff performance suggests he might be, especially the 4-to-1 K/BB rate he carried in August and September. But the other two? Nelson had an ERA over 5.00. Henry only threw 110 innings and walked too many guys. An insurance policy like Marcus Stroman, who would flourish with this defensive infield, is probably needed.
Ohtani Meter: 4. Arizona has the cash, and the need at DH, and the rotation in 2025, and to keep him from a division rival. But let's be real here.
Colorado Rockies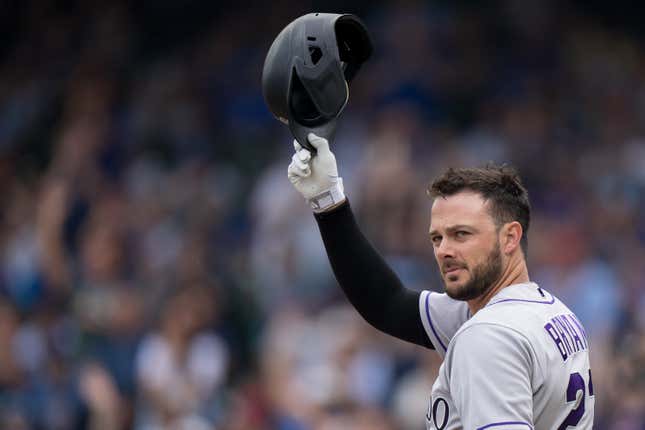 Owner cheapness level: It's hard to figure out because they're more weird than anything else. And stupid. But they'll do things like pay Kris Bryant (pictured). This is ownership Narnia.
Outlook: It's hard to leave when you can't find the door. The Rockies can't get out of the baseball abyss they're in because no one has any idea what they're trying to do. The Rockies have been ass for four full seasons, but that hasn't come with any of the return of prospects or draft hope that it usually does, because no one's sure if the Rockies are actually trying to rebuild. They have a handful of children who have stalled out when moving above High-A so far, though time is on their side.
At the MLB level, what is this goo? The offense finished bottom half of the league in runs while playing at Coors. Their pitching was the wooden spooners of MLB.
And they did all that while not being especially cheap! They're paying Bryant to be a part-time OBP guy now, as he might be the first player in history to watch his power zap when moving to Denver. Charlie Blackmon is entering the last year of his deal after providing barely average offense for the first time in five years. Kyle Freeland is pulling down $15 million for a 5.00+ ERA.
Is there any hope? Hunter Goodman crushed in the minors, but got severely domed in his audition in the majors last year. Nolan Jones passed his initial MLB exam in left.
The rotation is another sucking sound. And there isn't help coming anytime soon from within, and good luck getting any free-agent pitcher to come here and light his own ERA on fire. There almost certainly is a unique formula and method for building a pitching staff at Coors, but the Rockies have rarely found it and certainly never stuck with it. This team is far away from being far away, and until they actually pick a path they can just sit the offseason out.
Ohtani meter: GTFO
Los Angeles Dodgers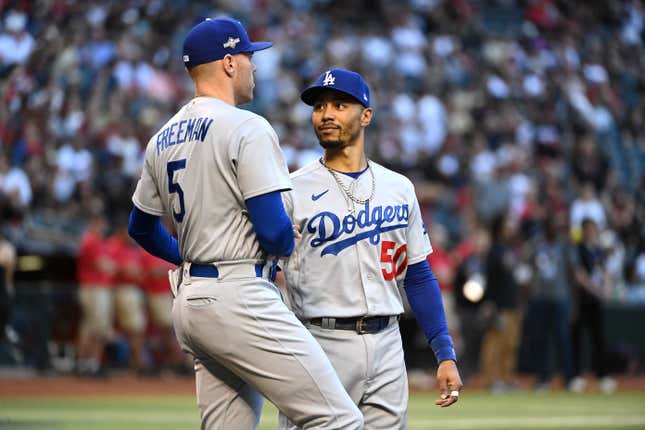 Owner cheapness index: YA HA TIME!
Outlook: If this were soccer, a lot of fans would feel that Ohtani signed a pre-contract agreement with the Dodgers last August and is basically signed, sealed, and delivered to move a few miles north. And while Ohtani would certainly be an improvement over Michael Busch at DH in 2024, Think Blue's major problem for 2024 is who is on the mound. Which is something Ohtani can't help with that soon.
The Dodgers are going to lose Julio Urias and Tony Gonsolin out of the rotation from last season, and likely Clayton Kershaw too. Right now they have to count on a major return from Walker Buehler after Tommy John Disease, continued growth from Bobby Miller, and then some kind of miracle from Emmet Sheehan? It's unclear. Nick Frasso or Gavin Stone may pop up from the system too, but this is not what a vaunted power like the Dodgers hinges their season on. Ohtani or no, expect the Dodgers to be showing up to the pitching table at the free-agent casino.
L.A. might also look to upgrade in left, where Chris Taylor looks about ready to head off to the land of wind and ghosts. Gavin Lux also returns after missing last year, but is his 2022 that was inflated by a .341 BABIP really what he's going to be moving forward? Will he play short because no serious contender should be plugging Miguel Rojas there every day? Do they want Mookie Betts playing a lot of second base again? Would they take a flier on rehabbing Tim Anderson to save money for Ohtani and pitching? It's not as clear of a picture for the Dodgers as it usually is, though they're the top dog out here until someone else says so.
Ohtani Meter: 11.
San Diego Padres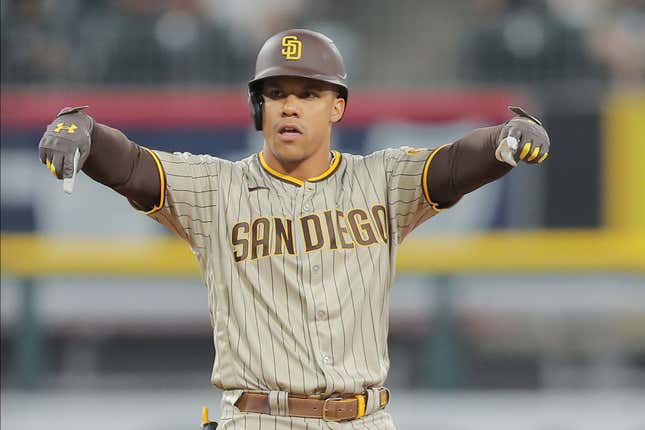 Outlook: Hard to pin down, given that their owner just passed and no one's quite sure what those who take over will want to do. It's hard to imagine that they'll match the passion and determination Peter Seidler had to make the Padres a power to rival the Dodgers, even though it didn't really work.
The buzz even before the season ended was that the Padres wanted to get cheaper, which is why Juan Soto's name has been in trade rumors that rivaled the World Series for interest. Blake Snell is certainly a goner, and it would hardly be a surprise if the Padres take calls on Joe Musgrove or Yu Darvish, but those are hard contracts for other teams to take on (especially the latter given that it runs until Yu is in his 40s).
The thing is, if the Padres just wanted to carry on Seidler's dream, they could run the same team out there and it very well might work. They lead the league in starter's ERA, and even losing Snell they would still have a pretty good rotation (and given how much trouble Snell consistently danced out of, he's a real risk to commit a ton of money too). There's simply no way that the Padres could be as bad with runners in scoring position as they were last year (.241 average). Even with that, they finished in the top half in runs scored. This isn't a team that's far away at all, despite all the noise.
If the Padres were interested in improving, they would need help at DH and another starter, along with whatever they want to comprise the pen out of now that Josh Hader is going to complain about pitching anywhere but the 9th somewhere else. But everything points to the Padres not being terribly interested in improving, at least not from the outside, so spending any time on what they might add is greatly outweighed by what they're going to subtract and what they will get in return. There is a world where they could trade Soto and Musgrove for multiple pieces that even out those losses, but does anyone think they'll move those guys for players who are ready to help right now?
Ohtani meter: 2. It's hard to combine "reducing payroll" with "chasing Ohtani."
San Francisco Giants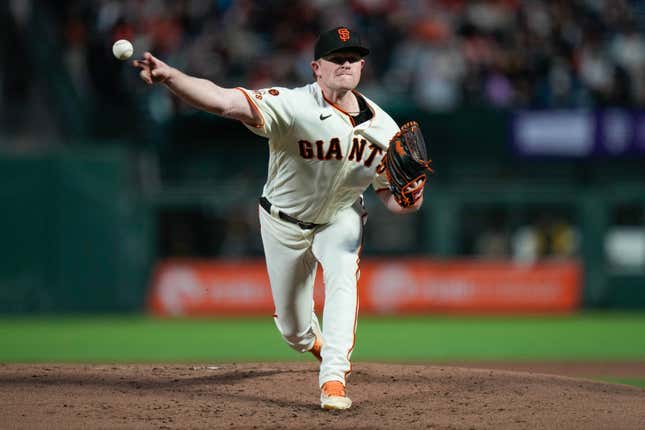 Owner cheapness level: Not all that high, as long as the prospective free agent's legs work properly.
Outlook: When looking at the Giants, there's just a curious lack of Dudes. Logan Webb (pictured) is a Dude, but you might struggle to find another one anywhere else on the roster. Is Luis Matos going to be one? Quite possibly, but he's got some ground to cover and the Giants need to figure out which outfield position he can play without being a danger to himself or fans. Is Marco Luciano a Dude? Maybe, and he's a baby just like Matos, but he didn't even crack 100 games above High-A before making his way to McCovey Cove. So he's got a lot of ripening to do too.
Kyle Harrison? Cracked the rotation last year, and his strikeout numbers in AAA are unholy (105 in 65 innings). Could be a Dude one day soon.
But that's just not enough Dudes, even if everyone develops into one who can. This lineup and rotation is filled with far too many Guys. They wanted to sign a Dude last year in Carlos Correa, but that fell through thanks to the gremlins that live in his ankle or whatever. They're rumored to be one of the most dogged pursuers of Ohtani, but is he enough by himself when he's only hitting? Will he be enough when he's doing both of his jobs in 2025?
The Giants have a ton of money to play with, with about $147 million projected for 2024's payroll. The year after they'll lose Anthony Desclafani and Ross Stripling off it, freeing up another $25 million. Logan Webb is already locked in, and they don't have anyone else they need to worry about hijacking the Money Plane to pay anytime soon. And there's nothing they don't need, really. They can't make up all the ground with this free agent class, and they don't have enough lying around to make a big splashy trade for Soto or Alonso or the like.
The Giants probably have to take another year to find out if those kids become Dudes, but that's not the kind of plan that's going to attract Ohtani, who wants to play real games now.
Ohtani meter: 8, if only to try and keep him from the Dodgers. But that won't be matched by Ohtani's feelings on them, one suspects.
Follow Sam on Twitter @Felsgate and on Bluesky @felgate.bsky.social
---