Let's keep the ship rolling and move over to the NL's East Coast conglomerate, which may have sparked the game's best current rivalry. Or at least the one that has the most whining, non-Cardinals division. It's time for the NL East.
Kyle Schwarber did something that's only been done 11 other times in MLB history | Stats That Will Blow Your Mind
Atlanta Braves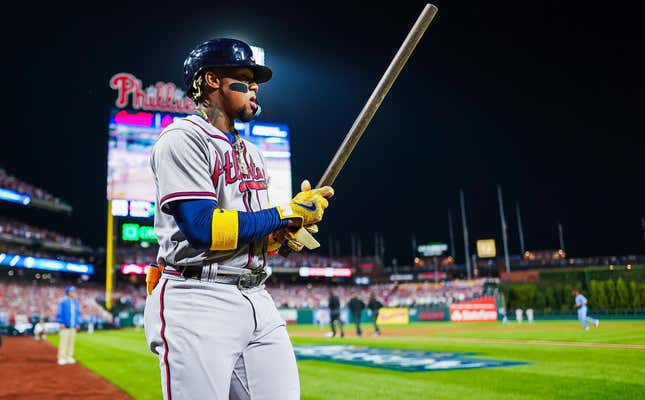 Owner cheapness index: Not the best not the worst, but the only team that has to publicly publish their finances so we have a pretty good idea they're spending just about what they should, Though there's probably a ton off the books too. And the whole ballpark village scheme.
Outlook: What do you get the team that has everything? Despite yet another Division Series flameout, this time with more bellyaching about layoffs, or Philly fans, or the media, or the temperature of the cheesesteaks in the Citizens Bank Park clubhouse, this is the model team in MLB still. So they don't have to have a very active winter at all to return as National League favorites. They don't really have to do anything, in fact.
There are only a couple of spots they might look at. One is left field where Eddie Rosario's option wasn't picked up, and Marcell Ozuna can no longer play (though it would be best if he were left in a dumpster outside the stadium). Joc Pederson and Michael Brantley are out there as intriguing one-year deal options. Lourdes Gurriel Jr. would require more than that, and Tommy Pham as an agent of chaos would be entertaining as hell.
The only other spot Atlanta might consider is the back of the rotation. They picked up Charlie Morton's option, but a 40-year-old as a No. 3 starter isn't what the glitterati should be heading into any season with. They'll count on some growth from Bryce Elder, but his ceiling probably isn't much higher than what he's already shown. At the moment, they're counting on all the king's horses and all the king's men to put Michael Soroka back together to round out the rotation, but everyone knows how that starts and ends, and those are both within about 12 innings of each other.
Aaron Nola would be hilarious here, given all that's gone on with the Phillies and Atlanta, but highly unlikely. Something more in the range of letting Marcus Stroman produce a bunch of ground balls that the excellent Atlanta infield can suck up sounds better. Or a flier on someone like Jack Flaherty or Martin Perez while they see if they can keep Soroka in an oxygen tank between starts.
Ohtani Meter (1-10 how likely they are to chase Ohtani, with 10 being a favorite): 2. This is maybe the one team that doesn't need him, and Liberty Media isn't going to sniff the tax threshold.
Miami Marlins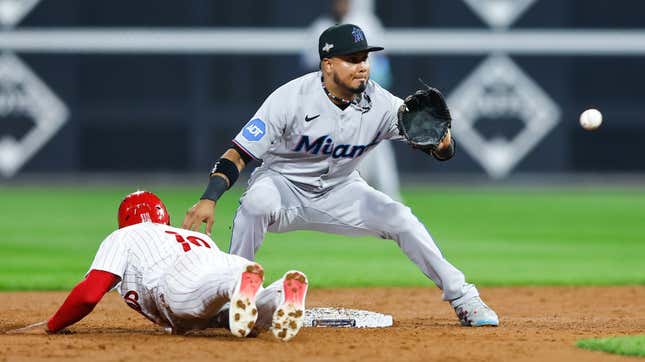 Owner cheapness index: They just tried to demote the first GM — Kim Ng — to get them to a real playoff series (sorta) in 20 years, so everyone knows what they're dealing with here.
Outlook: It's already bleak, seeing as how Sandy Alcantara will miss the season thanks to Tommy John disease. The Marlins rotation remains pretty strong even without the former Cy Young winner, but no team can take that kind of hit on the chin and not stagger at least a little. And this was only an 84-win team to begin with, so any kind of staggering lands the Marlins right back in the sea of irrelevance they've spent pretty much their entire existence soaking in, aside from two anomaly seasons in 1997 and 2003.
If this were an organization actually trying instead of one of the great real estate scams in modern history, they would be chasing bats everywhere. Alcantara's absence probably clouds any effort to cash in their wealth of young pitching for a hitter or two, otherwise, they should be burning up the phone lines to Baltimore or Cincinnati. Other than second base where Luis Arraez lives, there isn't a position that the Marlins couldn't use an upgrade, at least offensively. That's especially acute as Jorge Soler looks like he's headed for the exit door. And that includes centerfield, where Jazz Chisholm only has 60 games of offensive competence on his resume and it's hard to say what exactly he might be. Jake Burger and Josh Bell are good enough for the corners this season, but neither should be anchoring a lineup, especially when it's not clear that Burger won't impale himself on something in the field.
But don't count on it from this outfit, who have been stealing Miami's and their fellow owners' revenue-sharing money for a couple of decades now.
Ohtani Meter: Forget it.
New York Mets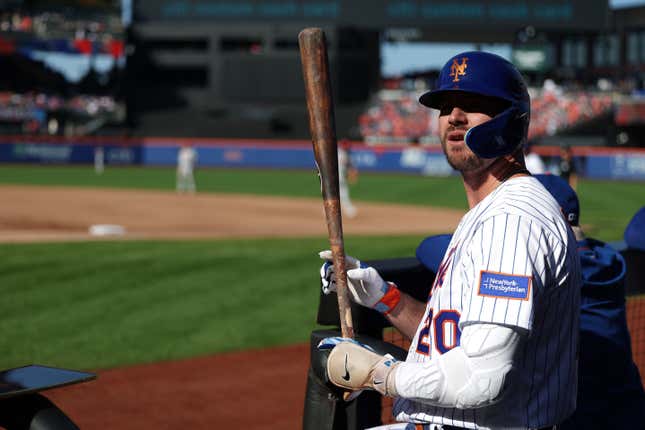 Owner Cheapness Index: The least cheap in the sport, though it won't matter much this season.
Outlook: If you squinted, you could see where if David Stearns wanted to get a little wacky with Steve Cohen's wallet he might be able to fashion a wildcard contender out of what's still left here. Francisco Lindor, Brandon Nimmo, Pete Alonso, and Francisco Alvarez are at least half of a pretty good lineup. Jeff McNeil's power went away last season, and he'll be 32 next season so it's worth asking if it'll ever come back. Still, add Matt Chapman to this or if Matt Vientos could replicate his AAA numbers or Brett Baty turns into something, it would be more than a representative offense.
The rotation would need some work, as it's three days older than water, led by Kodai Senga and Jose Quintana. The outfield probably needs a lot of help too, and thus this is the problem.
In reality, the Mets winter is going to be spent weighing whether to sign Pete Alonso to a long-term extension, or punt him to the Cubs for some young arms and bats. Alonso will be 29 next season, and paying for a slugger entering his 30s can be a bit fraught. The Polar Bear was undone by some fiendish BABIP treachery last season (.205) which helps explain why some of his power took a tiny bit of a dip and his average took a much bigger one. But he still put up 46 homers, his third 40+ homer season in four full campaigns. Guys who mash the baseball into plasma don't exactly grow on trees.
Trading Alonso also opens up an everyday spot for Vientos. Quintana and Joey Lucchesi kind of scream trade deadline offerings if they can cobble together a good two or three months beforehand.
There isn't enough in this free-agent class to save this version of the Mets. And they've made it pretty clear they're not interested in going that route anyway. Vientos Baty, and Ronny Mauricio all get serious looks to see if they're part of the next trying (in both senses of the word) Mets team in 2025.
Ohtani Meter: Still a 5, because don't put it past these loons to try and convince him that if he waits a season the Mets can provide him with all the contending seasons he wants.
Philadelphia Phillies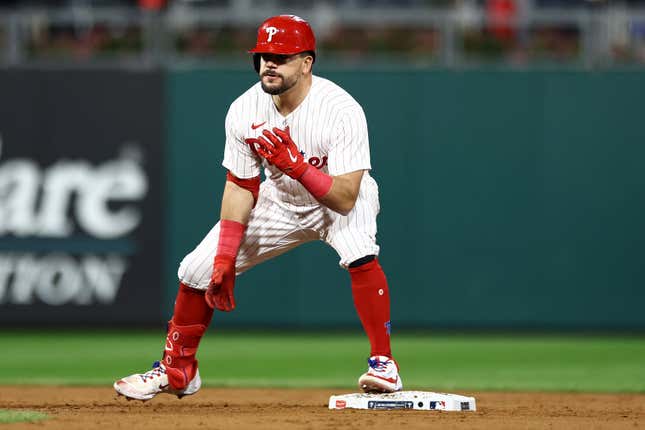 Owner Cheapness Index: An absolute model of an owner.
Outlook: It depends on what the Phillies want to be. Are they content with easily finishing ahead of the remedial class in the NL East, which should be wiffleball for them again in 2024, while not really breathing on Atlanta during the 162 but lying in wait and grinning a devious grin come October? They seem to really enjoy that path.
If the Fightins have designs on actually running with Atlanta in the regular season, the rotation will be the main focus. It would be understandable if Aaron Nola's dip in form in 2023 scared them off handing him a long-term bag at 30. He's got a lot of miles on the odometer already, his strikeouts were down, the exit velocity against was up, and the fastball lost just a tick on it, which rarely comes back. Nola is certainly crafty enough and has enough of an arsenal to find another way, but no one would blame Philly if they let someone else pay for the privilege of finding out if he can.
But that would still leave a hole in the rotation. A rotation that rounds out with Taijuan Walker, Cristopher Sanchez, and Josh Fleming doesn't really scream 98 wins; that's probably just the buy-in to win the division. Sánchez is worth a look as he walked basically no one in 18 starts last season, though that was by far the lowest walk rate he had shown anywhere in pro ball. Can he keep that up?
The Phils are on the hook for so much already that it's hard to see them going after a Blake Snell or Jon Gray or Yoshinobu Yamamoto, but then it was hard to see them going after Trea Turner and here we are. Beyond the rotation, it's hard to find a more set lineup already than what the Phillies have. The pen is going to need more than a scalpel though, and they can aim higher than what they went through with Craig Kimbrel last season. Like we said about them chasing the big fish, the same applies to Josh Hader here. They don't have to, but they've tended to go YAHOO lately so never rule it out.
Maybe they also just put out a feeler or two on J.T. Realmuto, who really declined at the plate last year and donning the tools of ignorance. He's only got another year on his deal beyond this one, but catchers at 33 tend to age like mayo in the sun. A long shot but not out of the realm.
Ohtani Meter: 3? It's not that they couldn't use him, but having him would force Kyle Schwarber, Bryce Harper, and Nick Castellanos onto the field all at the same time which is something they basically swore off in the middle of last season. Again, their propensity for chaos doesn't make it an impossibility, but if they're going to splash big bucks again it's almost certainly elsewhere.
Washington Nationals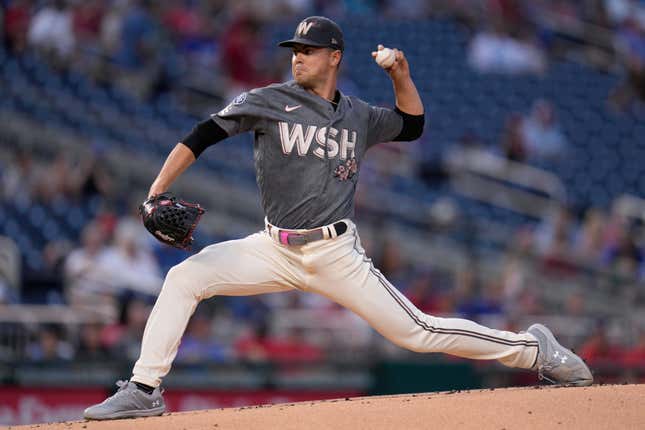 Owner Cheapness Index: Assholicly high
Outlook: They're going to spend the season figuring out if CJ Abrams and Keibert Ruiz will ever hit (probably not?) and if MacKenzie Gore can pitch (kinda?). Other than that, an examination on whether Josian Gray can stop walking guys. Beyond that, we can't find much reason that you or anyone else should care. They certainly don't.
Ohtani Meter: 1, and that's being kind.
Tomorrow: AL Central
Follow Sam on Twitter @Felsgate and on Bluesky @felsgate.bsky.social