Ask Bayer Leverkusen's sporting managing director Simon Rolfes about the club's philosophy and he will tell you that the focus is on young and quick players with resale potential. But that was not the guiding principle of their recruitment in the summer.
In came Granit Xhaka from Arsenal, now 31, to bring experience to the midfield. Leverkusen activated the release clause of Jonas Hofmann, also 31, to bring him in from Borussia Monchengladbach. Alex Grimaldo, 28, arrived on a free transfer from Benfica.
"Bayer Leverkusen did not buy a young player like Florian Wirtz," says Lothar Matthaus. He is referring to the precocious fan favourite who is flying again following his return of injury and someone Matthaus rates alongside Jamal Musiala as the future of German football.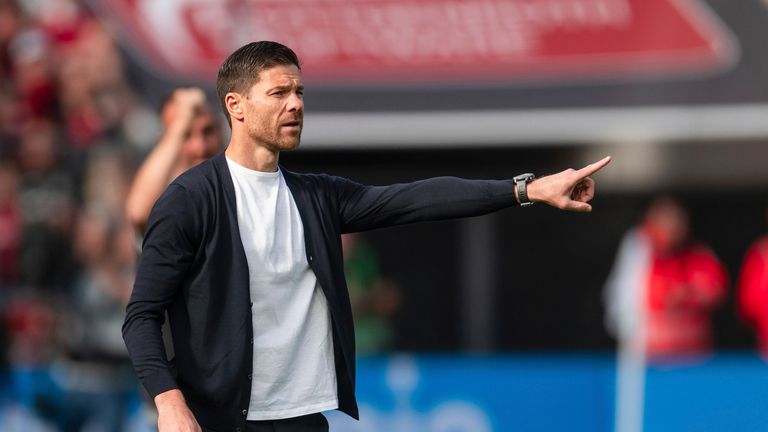 "I think the Leverkusen people who signed the players had been listening to Xabi Alonso and they made the perfect transfer window. The summer preparation was the key for him to change the team, change the mentality, with these experienced players.
"Before, they were working with only the young generation. Now Xabi has thought, I don't need the young generation player, I want to win a title, and for this I need experience." It was a bold ambition but Leverkusen now sit top of the Bundesliga table.
They are a team transformed under Alonso, playing an exciting brand of football that has taken them from near the bottom of the table when he arrived early last season. Lifting them up to sixth last season was a triumph. But this is something else entirely.
Leverkusen are top of their Europa League group, the only team in the competition to boast a perfect record, with no side having scored more. They are, perhaps, the favourites to win the domestic cup after Bayern Munich's surprise elimination. And they are also unbeaten in the Bundesliga, having beaten everyone except Bayern, against whom they secured an impressive draw in Munich.
Highlights from the Bundesliga match between Bayern Munich and Bayer Leverkusen

Matthaus believes that they can lift the trophy. "Leverkusen are performing the best right now. When they can be stable for the full season, for me, they can be the favourite because I can feel the spirit between the team and the coach is working very well."
As well as the experienced signings, Matthaus credits goalkeeper and captain Lukas Hradecky for "having the best season that he has played in the last 10 years" but it is the acquisition of Victor Boniface that stands out. He has been a revelation up front.
Brought in from Belgian club Union Saint-Gilloise in the summer, the Nigeria international is already into double figures for Leverkusen this season. On Thursday evening, he scored their 94th-minute winner against Qarabag. At 22, there is lots more to come.
"He is special. I saw him last season three times in the Europa League. Amazing. How he can play in Belgium was always my question. He has to play in Germany. I think he is a striker who can make the difference, like Kane, like Lewandowski, like Haaland."
Watch some of Victor Boniface's best bits for Bayer Leverkusen so far this season

Matthaus points out that "everyone has improved" – even those who were already at the club. It speaks volumes for Alonso's impact. Having almost 60 per cent of the possession while remaining a team that can play on the transition is an impressive combination.
No surprise, perhaps, given that he was a favourite of both Pep Guardiola and Jose Mourinho. He won trophies at Liverpool, Real Madrid and Bayern Munich. Respect is guaranteed. Matthaus believes those experiences provide him with an edge.
"He was not only a leader, he was a second coach," explains the legendary midfielder. "He was the coach on the field. The coach can give you instructions but on the field you need a leader like Alonso. This is how you win titles and Alonso showed it at each club."
And yet, plenty of former greats, Matthaus included, struggled with that switch to the bench. Alonso has been strategic in his progression, coaching Real Sociedad's reserve team before taking on this Bundesliga challenge. "Alonso has done it in a perfect way."
That means taking advantage of the aura that his playing days helped him develop but coupling that with coaching experience. "I feel the players getting better with Alonso." That is more than just a hunch. Matthaus has some insight on the matter.
Before the recent game at home to Qarabag, he had a conversation with Josip Stanisic, the defender who was brought in on loan from Bayern Munich but has been on the fringes of the team this season. "I asked him how Alonso was as a coach," says Matthaus.
"He told me that from him you can learn everything.
"He was for sure not happy with his situation because he came to Leverkusen because he was on the bench. But he told me in a nice way that he can learn everything from him. This was a good sign to me that they have the right spirit to win a title."
Thomas Tuchel stormed out as he reacted to criticism from Lothar Matthaus

Matthaus recently had a public falling out with Bayern boss Thomas Tuchel and his words can be seen as thinly-veiled digs at a coach who, in his eyes, is failing to foster the same spirit. Stanisic's respect for Alonso is indicative of Leverkusen's surprising depth.
"They do not just have a first 11, they have 20 players. Alonso is working with each player. I do not think Tuchel is doing this. He likes to create an atmosphere and some players do not understand what they need to do. Alonso has a clear plan. He is very clear in his job."
Has that lack of clarity at Bayern, whose success in signing Harry Kane has papered over cracks elsewhere, left the door open for Leverkusen? In comparison, their summer business was swift. Xhaka, Hofmann, Grimaldo and Boniface were all wrapped up in July.
Matthaus feels the contrast was evident when the teams met in September and could continue to work in Leverkusen's favour. "They were together for the summer preparation and that is most important. What you lose in those six weeks, you cannot find later."

Sunday 12th November 2:20pm


Kick off 2:30pm

The title, though? Surely that is too much to ask for a club once branded Neverkusen because of their knack for coming up short. In 2002, the now five-time Bundesliga runners-up famously came second in the league, the cup and the Champions League.
Whether they end Bayern's 11-year streak or not, Alonso will one day move on to bigger things. He can already expect to be near the top of the list when any of his former clubs are next in need of a coach. At this rate, he could eventually depart as a Bundesliga champion.
There is one believer already. "You can see the atmosphere in Leverkusen. They are believing now," concludes Matthaus. "They have that nickname because they are mostly second but now they have a really big chance. A chance to win the championship."
Watch Bayer Leverkusen vs Union Berlin on Sky Sports Mix this Sunday, kick-off 2.30pm