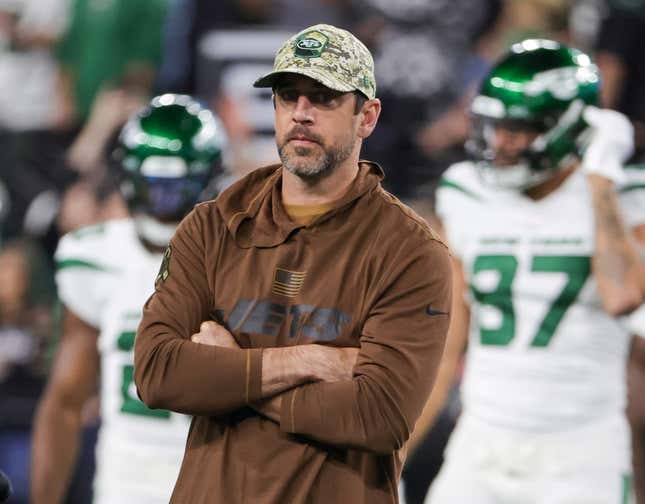 We have an Aaron Rodgers sighting, or rather an update, regarding his return to the Jets' lineup. According to reports, Mr. Rodgers aims to return to the neighborhood by Week 16 with the caveat that his team is still in the playoff hunt by then. Rodgers would be making his comeback just three months after suffering an Achilles tear, which sounds absurd. Most people won't believe it until they see it, but Rodgers has been adamant about proving us wrong since his surgery.
Aaron Rodgers on the brink of disaster | Trash Talkin' Tuesday
Obviously, Rodgers can't wait to get back on the field for the Jets, especially since he's yet to play an entire quarter in New York. It sounds pessimistic, but this isn't one of those injuries that athletes frequently bounce back from overnight or within a few months. A three-month turnaround is hard to fathom, but Rodgers has said from day one that he will make it back this season.
This is where the Jets should step in and shut him down, but nobody within that franchise will have the balls to do that. Most of them are probably still amazed that the great A-Rod would even grace the lowly Jets with his presence. He's running the show just like he was in Green Bay for many years.
Rodgers' vanity won't allow him to be proved wrong by outsiders. He may give it a go come Week 16, but there's no way he'll be a significant factor for the Jets, so someone in that organization may want to step in, grow a set, and officially put him on the shelf. The only good that'll come from a Rodgers return this season is him stroking his ego. It will be a modern-day miracle for A-Rod to come back and actually make a difference.
Coming back so late in the season with the Jets hunting a playoff spot is more likely to hinder the team while Rodgers knocks off rust from not having played in months. Take away the four plays from Week 1, and Rodgers won't have played high-stakes football in almost a year come December. So, like most sensible folks…. I'll believe it when I see it.